Constant level trolley up to 200 kg
The constant level trolleys are designed to hold the load handled at an ERGONOMIC height for the operator, either for loading or unloading operations.
Video(s)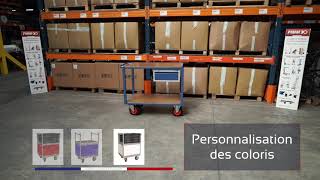 More video on our Youtube's channel
Product benefits
Available in three versions of payloads: The 800 x 600 mm tray can accommodate two 600 x 400 mm plastic boxes or bulk loads.

from 10 to 50 kg
from 20 to 100 kg
from 40 to 200 kg

In GLISSNOT wood, the tray is rot-proof and highly resistant over time.

The wheels mounted on casters with ALU body limit strain on start up and ensure excellent manoeuvrability and a quiet travel.

Fully customisable colours.
Technical data
| | | | |
| --- | --- | --- | --- |
| Capacity (kg) | 10-50 | 20-100 | 40-200 |
| Wheels (mm) | Ø 200 | Ø 200 | Ø 200 |
| total dimensions (mm) | 900 x 680 x 1310 | 900 x 680 x 1310 | 900 x 680 x 1310 |
| tray lifting stroke (mm) | 600 | 600 | 600 |
| number of steps | 5 | 5 | 5 |
| steps (mm) / weight (kg) | 120 /10 | 120 / 20 | 120 / 40 |
| step height (mm) | 120 | 120 | 120 |
| Weight (kg) | 52 | 52 | 52 |
See the technical table