Drum handler equipped on a LEV600 stacker
Our VARIABLE GEOMETRY design is THE solution for your handling needs from the simplest to the most complex.
Its added value lies in the adaptability of the frame relative to the load to be handled and docking constraints.
Intended for intensive use, our design is recognised for:
- The ERGONOMICS offered to the operator.
- The RELIABILITY of the mechanisms over time.
- The DIVERSITY of standard or custom accessories.
Video(s)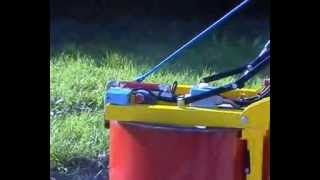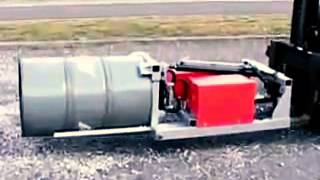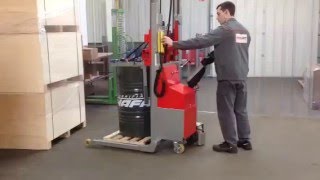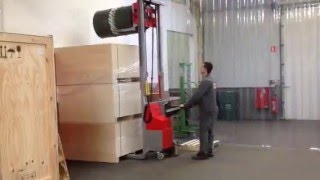 More video on our Youtube's channel
Product benefits
I. Reliability:
- Absolute control over the manufacturing process.
II. Ergonomic:
- Chassis modularity, adapting to loads and environment.
III. Safety:
- Compliant with regulations and standards.
IV. Accessory equipment:
- Extensive range of standard accessories.
- Development of tailor-made solutions by our integrated design office.
► Discover our model adaptable to a forklift.
Technical data
Metal and plastic L-Ring drums with a small rim 220 L, Ø 600 mm.

Drums gripped at 3 points.
lifting height (m)
rack height (m)
Capacity (kg)
length (vertical drum (mm)
Length (horizontal drum) (mm)
Mast height(mm)
Height with unfolded actuator (mm)
Simple masts

1.40
1.30
350
1082
1522
1910
2270
1.70
1.60
350
1082
1522
2210
2570
2.00
1.90
200
1082
1522
2510
2870
Duplex masts

2.00
1.90
200
1082
1522
2630
2890
2.50
2.40
100
1082
1522
3130
3390
See the technical table