powered LEV300 stacker
EASY TO HANDLE AND ERGONOMIC this Lev300 motorised Stacker can handle a load safely and effortlessly.
Excellent ratio between strength and manoeuvrability, this high-performance and versatile stacker is designed to meet the most varied requirements and is suitable for intensive industrial use.
Video(s)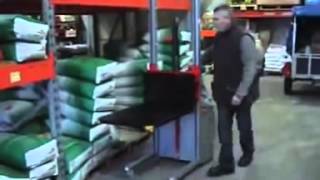 More video on our Youtube's channel
Product benefits
- Excellent handling and performance.
- Electric lifting and moving.
- Guidance by joystick.
- Carriage equipped with square tube forks 30x30, length 542 mm.
- Customization Option.
Technical data
Capacity

300 kg
(depends on equipped accessory)


Version

fully powered


Lifting height (m)

1.40 - 1.70


Total width(mm)

600

Ø front swivel castors (mm)
Ø 75
Ø rear driving wheels (mm)
Ø 200
See the technical table